Feeding System
FIFO Buffer
FIFO Buffer ICB: buffering and feeding system for food applications
The packaging lines component based on accumulation of "gondola" carriers
The FIFO Buffer is a feed system intended for buffering incoming rows of products; it's based on a loop of "gondola" shelves that are loaded with one row for each shelf.
Once it is filled with products, the "gondola" follows the loop and is accumulated along the buffer frame length, in this way guaranteeing the required buffer capacity.
The FIFO Buffer can be equipped with up to four exits to direct the products to the relevant packaging equipment.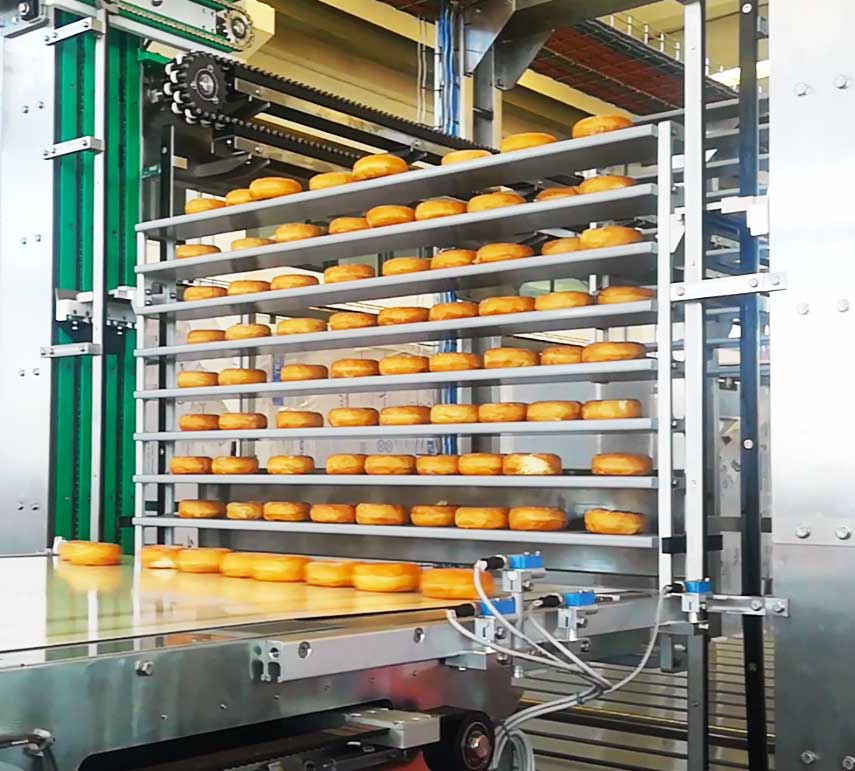 PERFORMANCE REQUIREMENTS
Provide the buffering time for which it is designed
The system can provide the "in-line" or cross feeding of the products at the exit of the buffer
Out-feed can be provided on two levels
The gondolas can be extracted for cleaning during production (no machine stop required)
HYGIENIC AND DESIGN REQUIREMENTS
FIFO BUFFER is designed and constructed according to the following characteristics:
Standard module designed and built with easy access for cleaning, according to CE standards
All parts in contact with the product to be FDA approved